A rider on fire right now is Graham Briggs who on Wednesday night rode away from the best in the country from the start and stayed away!
Race Chatter – Graham Briggs
Anyone who has followed the career of Graham Briggs (JLT Condor) over the years when he's been national champion and a winner of many events each year will not be surprised at how well he's going right now.
After the British Crit champs we spoke to Graham (click here) and on Wednesday night before and after the race, we spoke to him again. On Sunday at RideLondon, two British based riders were in a select group with household names Philippge Gilbert and Thomas de Gendt as well as Tour of Yorkshire stage winner, Moreno Hofland.
Those two riders were Graham Briggs (JLT Condor) and Eddie Dunbar (NFTO). I, like many cycling fans watched that coverage and we didn't see much of that group in the finale but it must have been pretty rapid and grippy to have been in such a small selection.
It's been quite a six week period for 'Brigga' from South Yorkshire what with second in the British Crit champs, RideLondon and now Chepstow. The illness he had in the first part of the season is behind him, we hope, and now he looks like he's going to set alight the second half of the season which is already burning brightly for him.
In Chepstow, I managed to grab a quick chat before the start of the race where I asked him about RideLondon. Graham was understandably pleased with that ride saying "I haven't done many long rides so to race 200k and still be there with the likes of Gilbert is pretty mind blowing".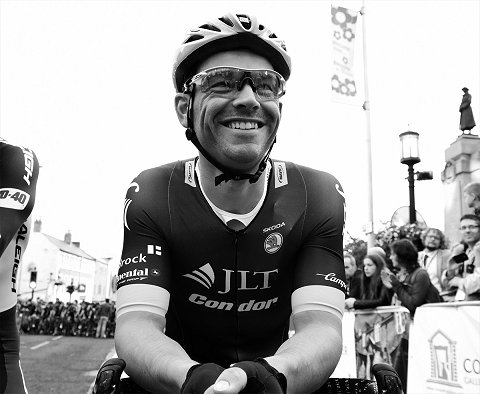 As the small group that Graham was with came onto the Mall, Brigga was just behind Gilbert and waited his moment before sprinting side by side with a classics legend. Asked was he intimidated in that sprint at all or just treated it as a usual gallop, he replied "I was a little but really was just too far back in the sprint. I was though happy to be in such a group and we were going pretty fast towards the end."
The race on the run in to London after Box Hill was very lively indeed after the fire went out of the chase by Bora Argon 18 and the peloton split and a group escaped. Talking about the run in, Graham explained "I knew there were eight up the road and knew the run in from last year that it was a pretty tough one."
"With 15 or 20k to go, the race went up a drag and a few riders went and I was feeling good at that point, so dug in and went for it and started rolling well with them when I saw we had a gap. At the time you don't really take in who you are with and where you're at and afterwards you look back and think, 'that was some race'!"
His win at Chepstow was also 'some race'. I saw a lot of dam good bike riders going flat stick chasing and they couldn't bring him back to the fold after he escaped. Partly because he has awesome 'legs' right now and also because he's one quick son of bitch around the twists and turns of that Welsh town.
His own first reaction to the win was "wow. I knew when I was warming up this evening I felt really good. At 7.20pm it started raining and started rubbing my hands together because I love it when there's a hill and it's wet!"
"It was a really tough circuit so when I got the gap, I picked my moments where I went hard and kept it fast on the corners where I felt confident in my ability and never had any sketchy moments".
Talking us through how the break came about, he says "Felix (English of JLT Condor) was on my wheel as I pressed on around one of the corners and Felix let the wheel go and it was game on from there."
"On my own, I was able to race it without any jumping around and settle down into a rhythm. I pushed on up the climb and kept the speed up over the top and then kept it flowing round the corners".
"I have led a race solo from the start before, I think it was Preston or somewhere in 2009 after the Tour of Britain when the form was good. But the level has gone up now and to get away from guys of that standard, is really motivating for the rest of the season."
"The goal is to get selection for the Tour of Britain now. Last year I didn't go too well towards the end of the year. I had a cracking start to the season (that included a stage race win in France) and held it all the way to August when I went away to the US Pro Challenge and being at altitude didn't work for me there so we decided I'd not do the Tour of Britain. So this year it's been a goal of mine".
"Each week I am feeling a bit stronger on the bike and last Sunday was unbelievable to be with the riders I was with and get 15th in a Hors category UCI race. I have really only had five weeks of solid training and I just don't want to push it over the edge."
"Sometimes when you go really well, you keep pushing and try to train that bit more but I have learnt at the start of the year that you don't have to always push it but rest a bit more."
Graham has a UCI race in France prior to the Tour of Britain and a few UK races before some recce rides on the Tour of Britain route. Thanks to Brigga for the chat.
Send your results as well as club, team & event news here
---
Other Results on VeloUK (including reports containing results)

---
Other News on VeloUK