Jack Pullar leads Bike Channel Canyon to victory on two fronts at the first ever Aberdeen round of the Tour Series in the Scottish sunshine
Tour Series: Aberdeen
Pullar celebrates the win in Aberdeen
In what many described as a strange race, the team element for the Tour Series played straight into the hands of the ever agressive Bike Channel Canyon team. Always on the attack, in Aberdeen, the tactic worked perfectly as they got three riders up the road, James Lowsley  Wlliams, Harry Tanfield and eventual winner Jack Pullar. On the back, out numbered but in the game for the win, George Harper.
The break went early and with Tanfield and Lowsely-Williams putting the hammer down for their teammate Pullar, they drew away and despite a chase behind by both Raleigh GAC, JLT Condor  and Madison Genesis, the gap continued to open to the point by the final five laps, the break was not far from lapping the chasers.
The 'hotdog' turn saw the riders sprinting out of a dead turn every lap and that took its toll
The closing laps saw Tanfield and Lowsely Williams try and soften up Harper and Pullar too had a go at getting away but the One Pro rider was equal to the task and in the sprint to the line, Pullar was never going to let them all get beaten and dived out into the wind at 75 metres to go to look across and see he'd won his first round of the Series after podiums in the past. Harper was second and Tanfield third.
Lowsely-Williams, a Lord of the Manor no less, knows how to ride hard and did so for Pullar in the break
A good crowd was out in the sunshine to watch the race
Brenton Jones is in charge of spraying the bubbly around on the podium
With two points on the night, Seb Mora of Raleigh GAC is said to be mathematically secure in the Points jersey with two rounds to go.
Bike Channel Canyon celebrate a win on the podium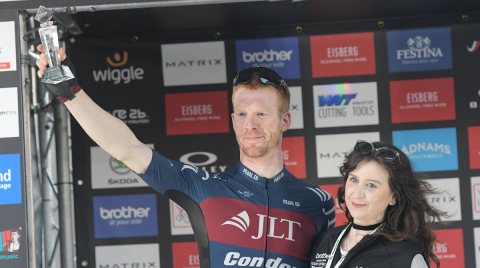 Fastest lap for Ed Clancy of JLt Condor!
A day out front for Harry Tanfield saw him take the Points win on the night
Jack Pullar is calm as he is presented to the crowd on the podium after his victory
The sprint for the team placings saw JLT Condor dominate it with Jones, Clancy and Briggs all up there
Before the sprint though, Madison Genesis were the ones putting the others under the hammer led here by Bath winner Connor Swift
Tim Elverson gives his riders in the break information from the pits
Madison Genesis string out what is left of the chase group – not much!
VIDEO INTERVIEWS
Jack Pullar
---
Ed Clancy of JLT Condor
---
Connor Swift of Madison Genesis post race

---
Tim Elverson of Bike Channel Canyon before the race
---
… continued after advert
FULL RESULTS
Individual Classification Round 9 – Aberdeen
1 Jack Pullar BIKE Channel Canyon 38 1:09:33.281
2 George Harper ONE Pro Cycling 38 1:09:33.469 +0.188
3 Harry Tanfield BIKE Channel Canyon 38 1:09:34.414 +1.133
4 James Lowsley-Williams BIKE Channel Canyon 38 1:09:36.971 +3.690
5 Brenton Jones JLT Condor 38 1:10:34.641 +1:01.360
6 Ed Clancy JLT Condor 38 1:10:34.663 +1:01.382
7 Steele Von Hoff ONE Pro Cycling 38 1:10:34.722 +1:01.441
8 Graham Briggs JLT Condor 38 1:10:34.724 +1:01.443
9 Johnny McEvoy Madison Genesis 38 1:10:34.927 +1:01.646
10 Enrique Sanz Team Raleigh GAC 38 1:10:35.959 +1:02.678
11 Matt Holmes Madison Genesis 38 1:10:36.671 +1:03.390
12 Chris Opie BIKE Channel Canyon 38 1:10:36.885 +1:03.604
13 Ali Slater JLT Condor 38 1:10:37.194 +1:03.913
14 Connor Swift Madison Genesis 38 1:10:38.473 +1:05.192
15 Bertie Newey Metaltek Kuota 38 1:10:39.297 +1:06.016
16 Kristian House ONE Pro Cycling 38 1:10:39.702 +1:06.421
17 Tobyn Horton Madison Genesis 38 1:10:40.305 +1:07.024
18 Sam Lowe BIKE Channel Canyon 38 1:10:40.692 +1:07.411
19 Adria Moreno Team Raleigh GAC 38 1:10:41.005 +1:07.724
20 Ben Marks Morvelo Basso 38 1:10:42.290 +1:09.009
21 Joe Nally Scotland 38 1:10:43.564 +1:10.283
22 Matt Gibson JLT Condor 38 1:10:44.373 +1:11.092
23 David Lines Wheelbase Altura MGD 38 1:10:44.746 +1:11.465
24 Richard Handley Madison Genesis 38 1:10:55.107 +1:21.826
25 Evan Oliphant Wheelbase Altura MGD 38 1:10:57.474 +1:24.193
26 Samuel Williams ONE Pro Cycling 38 1:10:58.027 +1:24.746
27 Tom Mazzone Metaltek Kuota 38 1:11:31.692 +1:58.411
28 Mikey Mottram Morvelo Basso 34 1:04:11.922 +4 Laps
29 Scott Probert Morvelo Basso 34 1:04:12.265 +4 Laps
30 Will Ranoe Morvelo Basso 34 1:04:12.564 +4 Laps
31 Fraser Martin Team Raleigh GAC 34 1:04:48.908 +4 Laps
32 Dylan Hughes Scotland 34 1:04:49.607 +4 Laps
33 Robert Gray Wheelbase Altura MGD 34 1:04:50.138 +4 Laps
34 Sebastian Mora Team Raleigh GAC 34 1:05:21.257 +4 Laps
35 Steven Lawley Metaltek Kuota 34 1:05:24.548 +4 Laps
36 Andy Brown Metaltek Kuota 34 1:05:36.809 +4 Laps
37 Levi Moody Wheelbase Altura MGD 34 1:05:55.249 +4 Laps
38 Jordan Doig Wheelbase Altura MGD 34 1:05:56.438 +4 Laps
39 Will Harper ONE Pro Cycling 33 1:04:18.310 +5 Laps
40 Stephen Bradbury Morvelo Basso 33 1:04:48.927 +5 Laps
41 Finn Crockett Scotland 33 1:04:52.376 +5 Laps
42 Stephen Dent Scotland 32 1:04:28.263 +6 Laps
43 Alexander MacRae Scotland 32 1:05:00.865 +6 Laps
Fastest Lap: Ed Clancy, GBR, JLT Condor, 1:40.306
Sprints Competition Round 9 – Aberdeen
Sprint 1
1 James Lowsley-Williams BIKE Channel Canyon 5
2 Harry Tanfield BIKE Channel Canyon 4
3 Jack Pullar BIKE Channel Canyon 3
4 George Harper ONE Pro Cycling 2
5 Sebastian Mora Team Raleigh GAC 1
Sprint 2
1 Harry Tanfield BIKE Channel Canyon 5
2 Jack Pullar BIKE Channel Canyon 4
3 James Lowsley-Williams BIKE Channel Canyon 3
4 George Harper ONE Pro Cycling 2
5 Sebastian Mora Team Raleigh GAC 1
Sprint 3
1 Harry Tanfield BIKE Channel Canyon 5
2 James Lowsley-Williams BIKE Channel Canyon 4
3 Jack Pullar BIKE Channel Canyon 3
4 George Harper ONE Pro Cycling 2
5 Matt Holmes Madison Genesis 1
Finish
1 Jack Pullar BIKE Channel Canyon 5
2 George Harper ONE Pro Cycling 4
3 Harry Tanfield BIKE Channel Canyon 3
4 James Lowsley-Williams BIKE Channel Canyon 2
5 Brenton Jones JLT Condor 1
Round Classification
1  Harry Tanfield BIKE Channel Canyon 17
2  Jack Pullar BIKE Channel Canyon 15
3  James Lowsley-Williams BIKE Channel Canyon 14
4  George Harper ONE Pro Cycling 10
5  Sebastian Mora Team Raleigh GAC 2
6  Brenton Jones JLT Condor 1
7  Matt Holmes Madison Genesis 1
Series Sprint Competition Overall Round 9 – Aberdeen
1 Sebastian Mora Team Raleigh GAC 84
2 Brenton Jones JLT Condor 42
3 James Lowsley-Williams BIKE Channel Canyon 40
4 Rory Townsend BIKE Channel Canyon 27
5 Harry Tanfield BIKE Channel Canyon 24
6 Graham Briggs JLT Condor 23
7 Jack Pullar BIKE Channel Canyon 22
8 Enrique Sanz Team Raleigh GAC 21
9 Johnny McEvoy Madison Genesis 20
10 Tobyn Horton Madison Genesis 19
11 Connor Swift Madison Genesis 18
12 Alex Paton Madison Genesis 14
13 George Harper ONE Pro Cycling 14
14 Tom Stewart ONE Pro Cycling 14
15 Steele Von Hoff ONE Pro Cycling 13
16 Matt Cronshaw Madison Genesis 13
17 Ed Clancy JLT Condor 11
18 Jon Mould JLT Condor 9
19 Zach May Metaltek Kuota 8
20 Chris Opie BIKE Channel Canyon 7
21 Bertie Newey Metaltek Kuota 7
22 Ali Slater JLT Condor 7
23 Adria Moreno Team Raleigh GAC 4
24 Gruff Lewis Madison Genesis 4
25 Kristian House ONE Pro Cycling 3
26 Alex Frame JLT Condor 3
26 Matt Holmes Madison Genesis 3
28 Tom Mazzone Metaltek Kuota 2
29 Grant Martin Team Raleigh GAC 1
29 Richard Handley Madison Genesis 1
Team Aberdeen (round 8)
1 BIKE Channel Canyon 4:39:19 10
2 ONE Pro Cycling 4:41:44 9
3 JLT Condor 4:42:19 8
4 Madison Genesis 4:42:28 7
5 Morvelo Basso 4:45:56 6
6 Team Raleigh GAC 4:46:43 5
7 Metaltek Kuota 4:48:34 4
Overall
1 JLT Condor 82
2 Madison Genesis 80
3 BIKE Channel Canyon 68
4 ONE Pro Cycling 67
5 Team Raleigh GAC 60
6 Metaltek Kuota 45
7 Morvelo Basso 39
Send your results as well as club, team & event news here
---
Other Results on VeloUK (including reports containing results)

---
Other News on VeloUK