Proof you are never too old to turn pro, Andy Hawdon of Raleigh GAC has podiumed twice in the Elite Circuit Series
Rider Chat – Andy Hawdon (Raleigh GAC)
Cumbria's Andy Hawdon of Raleigh GAC has had a good Elite Circuit Series with a victory at Colne and then a third place at Sheffield a week later. He's one of the team entered for the British Circuit Race Championships on Wednesday and having delivered a win already for his team, may well be a 'protected' rider in the squad.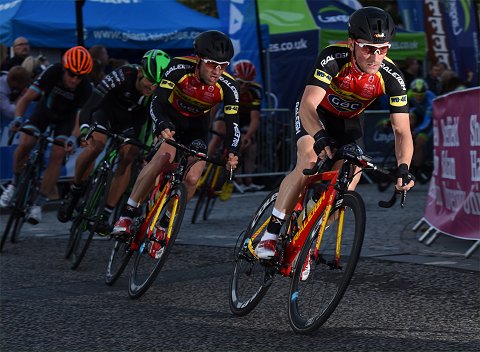 That said, so many of his team, like the other UCI squads, are capable of winning, that no team is likely to put all their eggs in one basket but Andrew has shown good speed in bunch kicks and if that is how the race is decided, he may well be the team's choice.
At Sheffield, Andrew had Karol Domagalski working for him and his lead out rider was none other than a World Champion, Frenchman Morgan Kniesky. The latter won't be in the British championships and nor will Karol but it shows how much faith the team have in him.
At 38, Andy is one of the older riders in the peloton, and works full time as a electrical support engineer, is married with children and has been getting in the results since 2008. Wins in National B races litter his palmeres but it was in 2011 at Stockton where he took some star scalps in the crit there.
Sheffield podium and Andy is 3rd (right)
Third in Otley in 2013 was a 'result' followed by 2nd in a National A in 2014 before being signed by Raleigh in 2015. A ride in the Tour of Yorkshire followed, a race so tough some famous names didn't make it round but Andy did and he is now at the sharp end of bunch sprints.
After Sheffield, Andy said it was good to keep the momentum going from Colne and even on a tough circuit like Sheffield, he admits the last five laps were 'comfortable' thanks to his Raleigh GAC teammates. "Having that help is not something I am used to and it felt pretty special" he admits.
Asked what the difference is between his performances in other years and now, Andy replies "just the level of professionalism and support from the team and its sponsors. When I signed for them in the winter, I thought 'I'll give it a go and see if I can handle it" and I had a really good winter training".
"The motivation getting a spot on this team made me work hard in the winter and I felt good early season. Then I broke my collarbone which set me back. I am struggling a bit in the road races but that's down to not having had a lot of that this year".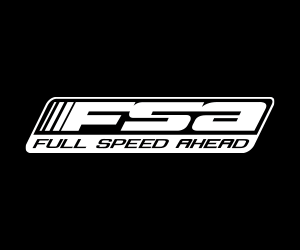 He is however going well in the crits. At Sheffield, there were a 100 starters but only 33 finishers. Talking about how he manages to stay near the front, he explains "I think it is just something I have learnt over the years doing these races. I have heard others say I'm not afraid to go through gaps and corner quickly so obviously the motocross background helps."
I have heard Barnsley is going to be a tough circuit, like Sheffield and having shown well at the latter, Barnsley may well suit him and the selective nature of the course. Going back to Sheffield, he explained there that if you went any more than 15 back, into the bottom corners, you were having to brake that hard and then sprint out of the corners, it was really difficult. "It was easier being in the top 10" he adds.
Andy finally admits after the season he has had so far with Raleigh GAC, that he does wish he could turn the clock back ten years and have more time as a pro bike rider. "It's something I have got into late but as I said to my wife at the start of the year, 'I'll do this year and see if I can handle it' and then six months later I found myself saying, 'its pretty good this, I'll have to have another year after this!"
Above: Sheffield and Andy (right) is 2nd in the bunch kick
"Just as long as I am having fun and enjoying the racing, I'll carry on as long as I can".
Send your results as well as club, team & event news here
---
Other Results on VeloUK (including reports containing results)

---
Other News on VeloUK