Four-time British cyclo-cross champion Ian Field of Hargroves Cycles has got himself three new exclusive bikes from Madison UK & Ridley
Feature: Big win for Ian Field on flashy new bikes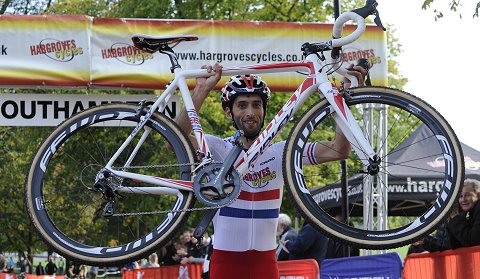 This is how pleased Ian was with his bike as he crossed the line, none of that hands int he air stuff, and dismounted and held up his bike to me after the finish line! Proud of it I think ;-)
Four-time British cyclo-cross champion Ian Field of Hargroves Cycles RT-Ridley has got himself three new exclusive bikes from Madison UK & Ridley and he put them to good use in Southampton with a solo victory.
The Hargroves Cycles – Ridley rider who races World Cups as well as the National Trophy, solo'd to victory in his sponsors event at Southampton despite a strong challenge from top roadman Graham Briggs (JLT Condor).
The race began with Briggs having a few digs to start the selection making process. Jack Clarkson (Hope Factory Racing) was another who did the same along with a few others while Ian Field cruised on the wheels before countering a move by Graham Briggs and slipping away, never getting caught.
The British champion carried on to victory ahead of the roadman Graham Briggs (below) who admitted afterwards he was surprised how well he did before adding that he had Field to thank for that! "You never know how it is going to go but the course suited me" Briggs explained. "Ian was unbelievable, and it was a good session".
"I owe a lot to Ian, he's helped me a lot over the last three week and I'm really grateful for that as it really helped me today. Technically I am a little bit not on par with him. I seem to have the strength but if he can take a couple of seconds on each technical section each lap, he's going to pull away and he made that count."
He did indeed and as Ian explained afterwards when speaking about those early laps "I needed to see who was in the mix and how 'Brigga' was going and take it from there. It's the first Trophy and whilst you can go flying off at the start, you run the risk of making a mistake and ruining your race."
"Brigga was putting in some digs and every time he went, it (the front group) split so I knew people were swinging. So I waited and Brigga went on a drag and I went over the top of him and into the woods. I'd got a few bike lengths on him and dragged the gap out from there."
After Graham Briggs showed in the Tour of Britain he can ride with the World's best pros (several top 10s), the ride by 'Fieldy' showed he not only has the skill but also the strength to get away from such a talented rider.
Red one side, blue the other, this paint job is certainly special!
"He's obviously going well but it shows the quality of the 'cross here that someone can come in with that kind of fitness and I was able to beat him on a roadman's course. Cross isn't as easy as some other road boys think!"
Talking about the final few laps when he was away on his own but Briggs was pressing on behind to keep the gap, Ian had to take care he didn't make a mistake. "It was about concentrating and not making a mistake while getting the effort out. Next weekend, the final few laps is where the race is made in the World Cup so I need to be strong at the end and I think I was which is good for the head."
Winning races requires a special bike and Ian certainly has a few of them thanks to the sponsors Ridley and Madison UK as well as his own sponsor, Hargroves Cycles. "It was good of Ridley and Madison to sort that out on behalf of Hargroves and me."
"The bikes ride fantastic. They are same as last years but still feel faster!" The bikes that carried Ian to victory are custom painted Ridley X-Night SL with a smattering of Shimano (Dura Ace, Ultegra and CX canti brakes) and PRO components.
The 50/50 red, white and blue paintjob is as flashy as the bike gets as Field chooses function over form for the rest of the build. Shimano Dura Ace mechanical 11-speed handles shifting and braking duties – but a double chain ring up front for range and reliability prevails as the National Trophy winner explains.
The flash from Graham Robins picks up Ian Field's new very exclusive  limited edition blue 25th anniversary Shimano XC90 shoes
"Predominantly last season, I raced the entire season on the big ring (46) but there are European courses like Valkenburg in the Netherlands and Koppenburg in Belgium, where you need the lower gearing."
The little chainring on his bike at Southampton was a 38.
"I prefer the double because rather than compromising with the wide range cassette. Also, you see people using a single ring to avoid problems with shifting on the front, and they're the ones that you see have the problems with the chain coming off and having to use chain catchers."
This will be the British champion's first season on the new 9000 Dura Ace, which coupled with the new polymer cableset is an experience he describes as "glorious".
Field uses PRO finishing kit throughout, with Vibe 7S bar, stem, seatpost and Turnix saddle. The bars themselves are a 42cm, classic bend, shallow drop – "because you don't use the drops often in cross."
As well as all of this, Field was also riding limited edition blue 25th anniversary Shimano XTR pedals and XC90 shoes.
No mistaking who's bike this belongs to!
Shimano Ultegra chainset, 46/38. Special pedals on one of the bikes (not this one) with blue 25th anniversary Shimano XTR pedals
Ian using the traditonal 'canti' brakes.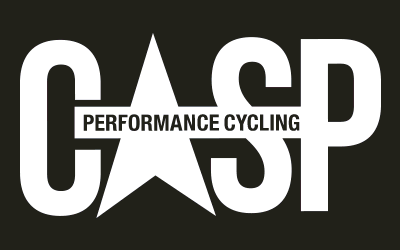 Send your results as well as club, team & event news here
---
Other Results on VeloUK (including reports containing results)

---
Other News on VeloUK