One of the most experienced people in the cyclo-cross world is Peter Hargroves who is still helping youngsters be better 'cross riders…
Feature Interview: Peter Hargroves
For all the years I have been going to cyclo-cross races, one team has stood out – the one sponsored by Hargroves Cycles. The man behind that team, is Peter Hargroves, who nowadays lives life in the fast lane racing his Caterham car around British tracks in the national league for that sport, as well as spending time showing young cyclists the skills required in cyclo-cross.
The 2018/19 season for the riders in the red of Hargroves Cycles will be very different to previous years when they had the likes of Ian Field winning British titles and national trophies for them with a fresh focus on nurturing young local talent.
The team has a rich history in helping young riders. For example, there was a period in the not too distant past when the likes of World Tour Pros, Jon Dibben, Owain Doull and Dan McLay to name but three, were in the team's colours and winning races on the road like the Junior Tour of Wales and the Isle of Man Junior Tour.
So this coming season sees the team having something of a restart; going back to basics with a talented young women's team surrounded by some experienced and knowledgeable riders. "We wanted to do something new and positive and already that is how it feels with the team" says Pete who's portfolio of cycle stores numbers five in the south of the country.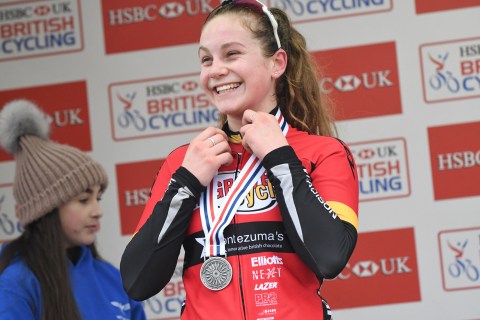 Pete admits the team, known for this year's cyclo-cross season as Hargroves Cycles Montezuma's, has never had a women's team with the strength in depth that they have now. So with Ian Field having gone to a new team and the likes of Jody Crawforth taking a season out, the star names in the team now are young up and coming ones such as Amy and Kara Perryman, Katie Scott and Abbie Manley along with the likes of masters World champion Helen Pattinson, herself a relative newcomer to the sport. Also in the colours is long time team rider Crispin Doyle and promising junior male rider Barney Clancy along with other young local riders.
Talking to Pete Hargroves recently, he says "we feel we had done all the team could do – we'd won the national championship five times in ten, we had won the national trophy goodness knows how many times, and when the contract for Ian came to end, which coincided with the end of the team's agreement with bike sponsor Ridley, the team decided it was time for a rethink."
Those managing the team then got together with the co-sponsor Simon Pattinson of Montezuma's Chocolate and decided that the opportunity to repeat the success they had been having was going to be very difficult so why not do something different and go back to being a development team with a lot of experience around it".
"We started this (developing young riders) over a year ago when we joined up with Montezuma's Chocolates and so for this season, we have predominately built a women's development team. We won a second place medal in the Junior champs last year and also have a vets world champion (Helen Pattinson) and so far, it is all working really well.
We have a young team being tutored by a highly experienced coach in Mark Adams, further mentored by Simon Pattinson and I'm also personally contributing in teaching them how to race. Some of them have already shown great signs of progress so we're very happy with how things are going".
Pete went on to explain how when you take a young rider who is already fairly talented and then train them in race-craft and give them the skills required, you can quickly push them forward and progress them a long way in a short space of time.
A lot of the young riders for his team come from the Solent Pirates youth team and also the Cotswold Veldrijden club. "We monitor the riders in these teams and see who, when they become a junior, we can help become a better rider. That's what we've done and it's working well for them and is thoroughly rewarding for us".
It isn't just the change of riders this year for the team but the bikes they race on will also change as the Ridley sponsorship has come to an end. Instead, riders get to choose their own bikes, with brands such as Specialized, Cannondale and Scott popular amongst the riders, all of which are brands available through Hargroves Cycles stores as well.
The events the team will be seen in will vary from regional leagues like the Wessex one which Pete is chairman of, to National Trophy's and training camps in Belgium, the home of cyclo-cross. Pete himself will also be getting stuck in with the team as he always has and says that his sport is still growing big time.
"We have so many riders in the Wessex league, it beggars belief how quickly it fills up." A good example, he says, is the Women's only CX race which not only has a large number of Wessex registered riders racing but also sees many women coming over from other regions to race the event.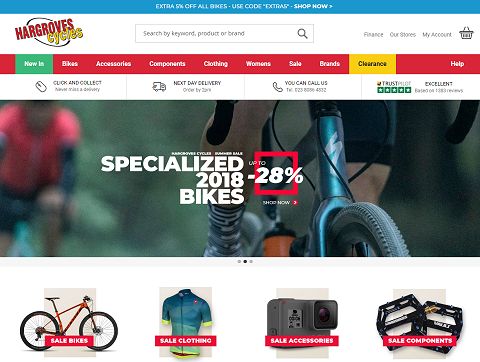 The final question was where are all these riders coming from in cyclo-cross?! With them numbering in the hundreds, all wanting to race off road and get a little mud on their tyres.
"In this region" explained Pete, "we get them from everywhere; people who are new to the sport, mountain bikers, people who have brought a gravel bike and feel they want to ride cyclo-cross and road riders who want to do the races especially in the first half of the season when its relatively dry. "And then" Pete adds, "there are those like me who used to ride and are now coming back to cyclo-cross again".
Our thanks to Peter Hargroves for his time, we wish his young team lots of luck in the coming season and hope to see them become stars of the sport like so many others who have had the benefit of his help over the years.

---
Cycle Division's Shop
---
Send your results as well as club, team & event news here
---
Other Results on VeloUK (including reports containing results)

---
Other News on VeloUK