Jacob Vaughan, second in the race as a junior, stepped up to the top of the podium with victory in an attacking 2019 Edition of the Perfs Pedal
Report/Result: 2019 Perfs Pedal RR
Jacob Vaughan riding his first UK road race for Canyon DHB, second in the race as a junior, stepped up to the top of the podium with victory in an attacking 2019 Edition of the Perfs Pedal
L-R: Alex Paton, Jacob Vaughan and Damien Clayton, the podium for the 2019 Perfs Pedal
After an attacking race where Vaughan was one of a handful of riders forcing the pace, the battle for the win came down to three riders and after last years winner Alex Paton attacked himself to a standstill, Vaughan took his shot to get rid of second placed Damien Clayton and win the season opener in the UK.
"It's a really prestigious race and I love this course so I am really glad to win it" Jacob said afterwards. "I was second two years ago to Chris Opie so I am glad I made it right this time."
Describing the finale, Jacob says "There was me, Paton and Damien and Damien was shutting everything down and I just managed to crack him. I went with a K to go on the climb and just about managed to crack Damien but thought he was going to come back at me when my legs started to tie up".
"I am really happy to win this as I know it means a lot to the boss Tim who loves this race."
… continued after advert
Alex Paton: "I thought before the race Jacob was one of the favourites purely from what I have seen lately of him going well. As a team, we thought it would be nice if were in a position to help one of our riders to win, it would be good to help Jacob win."
"The race did not go as straight forward as we hoped it might at the start. As a team, we wanted to take it up early, attack the first time up the climb as a team and hopefully reduce numbers down to a size that was more manageable. As it happens, we did an awful job of that because we didn't manage to get five of us on the front, we didn't ride hard enough so we reassessed, got organised, and second time up the climb we were all together so we rode hard to split it."
"Jacob and myself then found ourselves in a good position. We attacked a few times and were then away in a small group. Jacob and me did our fair share to get the break established because it was a hard time in the race and some of the other guys were not perhaps in the shape we were after the luxury of having the training and racing we've had and so we worked hard and to be fair there was good cohension in the group."
"With two laps to go, I had a few attacks to try and shake out a few of the guys but didn't achieve much and all it did was disrupt our rhythm and I kind of regretted that. Then, coming into the last lap, on the big circuit, Jacob and I agreed we'd start o attack and I just committed a lot to that. I thought if I get away, it takes the pressure off of Jacob and he can hopefully have a bit of an easier ride. I managed to get a gap on the climb and wasn't caught until 5k to go. From then, I kept on attacking until Jacob went."
Second placed was Damien Clayton who showed he had the horsepower to ride with the UCI team Canyon DHB and afterwards said to VeloUK "It was an unknown coming into this race and I ad no idea what I was going to do. The result means quite a bit because it's shown what I'll be like for the coming season. The Canyon guys are super strong and as soon as I was in a move with two of them, I got done over and Jacob had a really well deserved win and should have done it ages ago."
"Form is showing good and I'm on a new team, so it feels quite good to be up there in what were quite miserable conditions for the race. I had to shut as much as I could down because it was just me with them and they going attack after attack. Normally at that time of a race, I am quite fatigued but I had no choice but to shut their moves down until Jacob got up the road and took a deserved win."
"The race had a tough start as everyone wants to be in something but once something got established, the boys were working well, so it wasn't as hard as I thought it would be and once you got warmed up, the conditions were okay."
Whilst I and several people had tipped Jacob Vaughan to win the race, when they rolled out of Southwick, there was no guarantee any specific  rider would win it as the race always throws up a surprise or two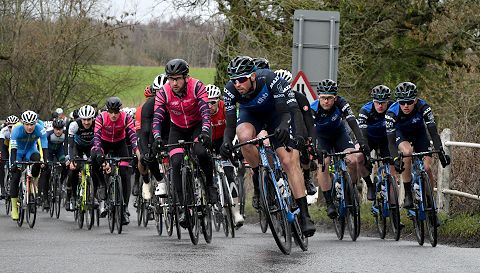 After the neutralised section, Alex Paton and his team were massing at the front ready to take it up
At the top of the climb, the pace looks steady but already twenty riders had been shelled out the back
Half a lap later and Jacob Vaughan was on the move
Then another half a lap later, it was last years winner Alex Paton who went clear
That forced a group clear …
… and in the bunch, new Vitus Pro Cycling p/b Brother UK signing Freddie Scheske was taking up the chase to bring it together again …
As the picture shows, after four laps, the race was still very close with three groups in sight of each other
But half a lap later and the gaps were now quite big and the leading group was looking like a good bet for the win
A lap to go and a chase group formed but the gap to the leaders was too big for them to close
And so the finish where after Alex Paton had led solo until 5k to go, and then after more attacks failed to shift Damien Clayon, Jacob Vaughan made one all or nothing move with a K to go and managed to go and stay clear.
… continued after advert
Provisional Result
1 Jacob Vaughan Canyon DHB P/B Bloor Homes 1:51:54
2 Damien Clayton Andymoore Autocentres @ 14"
3 Alex Paton Canyon DHB P/B Bloor Homes @ 21"
4 Jordan Peacock Spirit Tifosi Racing Team @ 26"
5 Jack Freeman Meudon Pedal Heaven Le Col RT @30"
6 Sam Culverwell Guernsey Velo Club (LBG @1.48
7 Louis Rose-Davies Canyon DHB P/B Bloor Homes st
8 Rupert Graham Spirit Tifosi Racing Team st
9 Sebastian Garry High Wycombe CC st
10 Jack English Guernsey Velo Club (LBG) st
11 Charles Page Canyon DHB P/B Bloor Homes @.49
12 George Fowler Nopinz Latchem Race Team st
13 Oliver Richardson Twickenham CC @1.51
14 John Hale WORX Factory Racing @1.53
15 Jack Rootkin-Gray Solihull CC st
16 James Roe Guernsey Velo Club (LBG) st
17 Red Walters Vitus Pro Cycling P/B Brother UK st
18 Thomas Gloagg VC Londres st
19 Morris Bacon DAP CC st
20 George Smith Nopinz Latchem Race Team st
21 Aled Jones VC Equipe/Flix Oral Hygiene/ProPulse st
22 Thomas Day Giant Cycling Club – Halo Films st
23 Chris McNamara Nunn-Sigma Sport-London RT st
24 Alexander Welburn trainSharp Club st
25 Daniel Maclean-Howell Cardiff Ajax CC st
26 Peter Merritt TBW Stuart Hall Gett Taxi st
27 Andrew Critchlow Norwood Paragon CC st
28 Peter Kibble Wales Racing Academy st
29 Michael Mottram Vitus Pro Cycling P/B Brother UK st
30 Patrick Biel ZeroBC st
31 Oscar Mingay Wales Racing Academy st
32 Rhys Hidrio Caesarean Cycling Club Jersey st
33 James Bonham Southdowns Bikes-Casco PET st
34 Matthew Houlberg Portsmouth North End CC st
35 Callum Macleod Canyon DHB P/B Bloor Homes st
36 Oliver Beresford Velo Club Venta st
37 Charlie Passfield Spirit Tifosi Racing Team st
38 Oscar Hutchings Team Tor 2000 KALAS @4.12
=39 Joseph Donohue VC Equipe/Flix Oral Hygiene/ProPulse @5.20
=39 Declan Hudson Liverpool Century RC st
=39 Oliver Winwood Bratchell Velo Club Venta st
=39 Simon McNamara Southdowns Bikes-Casco PET st
=39 Rory Barrett Southborough & District Wh st
=39 Alexandros Matsangos University of Portsmouth CC st
=39 Ben Kenneally Zero BC st
=39 Benjamin Marks BC Private Member st
=39 Matthew Hanford TBW Stuart Hall Gett Taxi st
=39 Cameron Cragg Project 51 st
=39 Matthew Burt Project 51 st
=39 Kieran Jarvis Cycle Team On Form st
=39 William Roberts Wales Racing Academy st
=39 Matthew Clarke Wheelbase Castelli MGD st
=39 Ryan Watkins TBW Stuart Hall Gett Taxi st
=39 Ross Holland Veloce Racing st
=39 Harvey Weinberger Zero BC st
=39 Joe Parker Blazing Sadles Cycles st
=39 David Middleton Veloflow CC st
=58 Michael Weavers Project 51 @6.10
=58 Paul Newsome Project 51 st
=58 Joseph West TBW Stuart Hall Gett Taxi st
=58 Frederick Scheske Vitus Pro Cycling P/B Brother UK st
=58 Roman Piotrowski BC Private Member st
=63 Charlie Heffernan Southdowns Bikes-Casco PET @8.00
=63 Joe Harris ZeroBC st
=63 Graham Crow Wyndymilla st
=63 David Bone Racing Club Ravenna st
=67 Oliver Hennessy Spirit Tifosi Racing Team @9.00
=67 Samuel Painter Zero BC st
=67 Christopher Jenkinson MB Cycling st
DNF Zach Bridges Team Ribble
DNF Josh Wakeling Aldata Race Team
DNS Alexandar Richardson Canyon DHB P/B Bloor Homes
DNS Marcin Bialoblocki Nopinz Latchem Race Team
DNS Gary Chambers Nopinz Latchem Race Team
DNS Joe Hickerton JAM Cycling C/B BPC
DNS Keith Henderson Southborough & District Wh WITHDRAW
N
DNS Paul Barnard Southdowns Bikes-Casco PET
DNS Josh Copley TBW Stuart Hall Gett Taxi WITHDRAW
N
DNS Finley Newmark VC Londres WITHDRAW
N
DNS Harry Johnson VC St Raphael
DNS James Horton VC St Raphael
---
Cycle Division's Shop
---
Send your results as well as club, team & event news here
---
Other Results on VeloUK (including reports containing results)

---
Other News on VeloUK