2018 winner Tom Moses of Madison Genesis heads entry for the 2019 Edition of the Tour of Reservoir for Men
Startlist: 2019 Tour of the Reservoir
Race Headquarters
Saturday: Edmundbyers YHA, Low House, Edmundbyers, Consett, DH8 9NL
Sunday: Consett Rugby Club, Amethyst Park, Medomsley Rd, Consett DH8 6LU
Schedule
Saturday 22rd June  Tour of the Reservoir – Stage 1
11.15 Signing On open
11.30 Officials/Drivers and Police Briefing
12.15 Signing On closes
12.30 Team Managers Meeting
13.20 Race Convoy assembly outside HQ
13.30 Race convoy rolls out of HQ
16.30 Finish (Approx)
Race Presentations (at Finish line) 10 mins after Stage Finish
Sunday 23rd June Tour of the Reservoir – Stage 2
11.30 Signing On open
12.15 Signing On closes
13.30 Race Convoy assembly outside HQ
13.45 Race convoy rolls out of HQ
17.45 Finish (Approx)
Race Presentations (at Finish line) 10 mins after Stage Finish
… continued after advert
Stage 1
Convoy leaves Edmundbyers on B6278 heading NE towards Derwent Reservoir. Left into Reservoir grounds (1.2) to cross finish line and exit of Reservoir grounds (2.0). End of neutralized zone (2.1).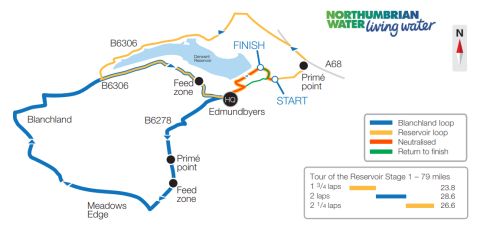 Turn left (0.6) onto Prime Hill (Laps XXX). Left onto A68 (1.0). Slip left off A68 onto Healy Lane (2.1) Left at T junction onto Barley Hill Lane (3.4) Left onto School Lane (3.6) towards B6306. Left at Carrick Corner onto B6306 towards Edmundbyers past Feedzone (10.7). Left in Edmudbyers onto B6278. Repeat lap. On entering Edmundbyers for the second time (23.8) turn right at T junction) Pass Prime (29.6) (Laps XXX)
Turn right at T junction onto Meadows Edge (30.6) Descend Bale Hill and turn right onto unclassified road (33.4) and right at Blanchland (34.4) onto B6306. Pass Feedzone (37.2). Turn right in Edmundbyers (38.3) Repeat lap.
Left in Edmunbyers (52.4) onto B6278 and left into Reservoir Grounds (52.4) to cross finish line (53.1). Exit Reservoir Grounds and left onto Prime Hill (54.2) Left onto A68 (54.7). Slip left off A68 onto Healy Lane (55.7). Left at T junction onto Barley Hill Lane (57.00) and left at junction (57.2) onto School Lane. Turn left at Carrick Corner (61.3) onto B6306. Pass
Feed zone (64.4). Left turn in Edmundbyers (64.5) Repeat previous lap. Left turn in Edmundbyers onto B6278 (77.1). Do not turn into Reservoir but continue NE on B6278 over bridge to enter Reservoir grounds from the East entrance (78.5) to finish at the top of the climb (78.9)
Stage 2
Convoy leaves Consett Rugby Club. Left turn and right onto Front Street (0.5) and cross finish line. Cross A68 (3.0) End of Neutralised zone (3.8) Right turn onto B6278 (5.2). Continue though Edmundbyers (9.0) Turn left into Reservoir grounds (9.6). Exit Reservoir grounds and turn left onto Prime Hill (11.7) Turn left onto A68 (12.1) Slip left onto Healy Lane (12.8)

Turn left onto Barley Hill Lane (14.1) Turn left onto School Lane (14.3). Turn left at Carrick Corner onto B6306 (18.4) Feed zone (21.0) Turn left at Edmundbyers T junction (21.6). Repeat lap.Turn right at Carrick Corner (31.0) Turn left at Blanchland (32.3) Turn left onto Bale Hill (33.3) Prime (34.2). Turn left onto B6278 (38.1) Turn Left in Edmudbyers (42.6) Repeat lap
twice
Straight on in Edmundbyers (72.1) Turn left into Reservoir grounds (72.8) Turn left to exit Reservoir grounds (74.1) Turn left onto Prime Hill (74.9) Turn left onto A68 (75.9) Slip left onto Healy Lane (75.9) Turn left onto Barley Hill Lane (77.3) Turn left onto School Lane (77.5) Turn left at Carrick Corner onto B6306 (81.6) Feed zone (84.0) Turn left in Edmundbyers onto B6278. Repeat lap. Turn right at Edmundbyers T Junction onto B6278 (97.4). Turn left off B6278 onto Waskerly Way (101.2). Cross A68 (107.3). Straight on at roundabout (109.3) to finish on Front Street (109.6)
… continued after advert
Startlist
1 Thomas Moses Madison Genesis
2 Ian Bibby Madison Genesis
3 Michael Cuming Madison Genesis
4 Richard Handley Madison Genesis
5 Matthew Holmes Madison Genesis
6 Jonathan McEvoy Madison Genesis
7 George Pym Madison Genesis
8 Erick Rowsell Madison Genesis
9 Matthew Bostock Canyon dhb P / B Bloor Homes
10 Daniel Pearson Canyon dhb P / B Bloor Homes
11 Louis Rose-Davies – U23 Canyon dhb P / B Bloor Homes
12 Max Stedman Canyon dhb P / B Bloor Homes
13 Charlie Tanfield Canyon dhb P / B Bloor Homes
14 Andrew Tennant Canyon dhb P / B Bloor Homes
15 Oliver Wood Canyon dhb P / B Bloor Homes
16 Scott Auld Ribble Pro Cycling
17 Alex Dalton Ribble Pro Cycling
18 Jake Gray – U23 Ribble Pro Cycling
19 Richard Jones Ribble Pro Cycling
20 Zeb Kyffin – U23 Ribble Pro Cycling
21 Gruffudd Lewis Ribble Pro Cycling
22 Alex Luhrs Ribble Pro Cycling
23 Ben Hardy – U23 SwiftCarbon Pro Cycling
24 Edward Laverack SwiftCarbon Pro Cycling
25 Jordan Reed – U23 SwiftCarbon Pro Cycling
26 James Shaw SwiftCarbon Pro Cycling
27 Peter Williams SwiftCarbon Pro Cycling
28 Jacob Scott SwiftCarbon Pro Cycling
29 Stephen Bradbury SwiftCarbon Pro Cycling
30 Will Bjergfelt SwiftCarbon Pro Cycling
31 Lawrence Carpenter Team Wiggins Le Col
32 Mark Christian Team Wiggins Le Col
33
34 Ben Healy – U23 Team Wiggins Le Col
35 Callum Riley Team Wiggins Le Col
36 Oliver Robinson – U23 Team Wiggins Le Col
37
38
39 Graham Briggs Vitus Pro Cycling p/b Brother
40 Adam Kenway Vitus Pro Cycling p/b Brother
41 Christopher Latham Vitus Pro Cycling p/b Brother
42 Michael Mottram Vitus Pro Cycling p/b Brother
43 Frederik Scheske Vitus Pro Cycling p/b Brother
44 Alistair Slater Vitus Pro Cycling p/b Brother
45 Scott Thwaites Vitus Pro Cycling p/b Brother
46 Timothy Torrie – U23 Vitus Pro Cycling p/b Brother
47 Felix Barker ActiveEdge Race Team
48 Jim Bradford ActiveEdge Race Team
49 George Evans – U23 ActiveEdge Race Team
50 Jesse Yates ActiveEdge Race Team
51 Thomas Gelati Bioracer- Moriarty Bikes
52 Richard McDonald Bioracer- Moriarty Bikes
53
54 Tim Shoreman – U23 Bioracer Moriarty Bikes
55 Jonathan Bridge – U23 Crimson Orientation Marketing R
56 Jonathan Fowles Crimson Orientation Marketing R
57 Tarn Fynn Crimson Orientation Marketing R
58 Matt Hallam Crimson Orientation Marketing R
59 Elliot Harrison Crimson Orientation Marketing R
60 Adam MacRae Crimson Orientation Marketing R
61 Jake Womersley Crimson Orientation Marketing R
62 Joseph Clark Cycling Sheffield Giant Sheffie
63 Daniel Pullen – U23 Cycling Sheffield Giant Sheffie
64 Kieran Savage – U23 Cycling Sheffield Giant Sheffie
65 Louis Szymanski Cycling Sheffield Giant Sheffie
66 James Curry – U23 Cycling Ulster
67 Ronan Mc Laughlin Cycling Ulster
68 Darnell Moore Cycling Ulster
69 Gareth Oneill Cycling Ulster
70 Joe Evans Saint Piran
71 William Harper Saint Piran
72 Cameron Jeffers Saint Piran
73 Steve Lampier Saint Piran
74 Oliver Maxwell Saint Piran
75 Matthew Nowell Saint Piran
76 Alex Platt – U23 Saint Piran
77 Frazier Carr Spirit Tifosi Racing Team
78 Rupert Graham Spirit Tifosi Racing Team
79 Leon Mazzone Spirit Tifosi Racing Team
80 Jake Hales Spirit Tifosi Racing Team
81 Jordan Peacock Spirit Tifosi Racing Team
82 Matthew Dobbin – U23 TBW23 Stuart Hall Gett Taxi
83 Matthew Hanford – U23 TBW23 Stuart Hall Gett Taxi
84 David Reece TBW23 Stuart Hall Gett Taxi
85 Ryan Watkins – U23 TBW23 Stuart Hall Gett Taxi
86 Matt Clarke Wheelbase CabTech Castelli
87 James Coates – U23 Wheelbase CabTech Castelli
88 Ben Barlow – U23 Wheelbase CabTech Castelli
89 Ben Granger – U23 Wheelbase CabTech Castelli
90 Cameron Richardson – U23 Wheelbase CabTech Castelli
91 Joe Reilly – U23 Wheelbase CabTech Castelli
92 Finlay Robertson – U23 Wheelbase CabTech Castelli
93 Fraser Martin Wheelbase CabTech Castelli
94 Matthew Clements – U23 Richardsons-Trek RT
95 Steven Parsonage Richardsons-Trek RT
96 Damien Clayton Andy Moore Autocentres Racing
97 James Jobber Backyardbikeshop.com
98 Marcus Cram Blaydon Cycle Club
99 Matthias Barnet – U23 Cycle Team OnForm
100 Andrew Taylor Dab Cycling Club
101 Neil Scott Deeside Thistle CC
102 Donal Shearer – U23 Cycling Ulster
103 Declan Hudson Liverpool Century Road Club
104 Yorben Van Tichelt Neon-Velo Cycling Team
105 Joe Howcroft – U23 Otley CC
106 Ross Fawcett Pedal Power Cycles Ipswich
107 Gary Freeman Pedal Power Cycles Ipswich
108 Alexandre Touche – U23 Pontypool RCC
109 Adam Hartley – U23 SEG Racing Academy
110 Craig Gow – U23 Team Andrew Allan Architecture
111 Oliver Richardson Twickenham CC
112 David Bolland Velo Schils Interbike RT
113 Angus Fyffe
114 Christopher Booth BC Payment sports
115 David Hewett BC Private Member
116 Ryan Reilly BC Private Member
117 Eliot Ward BC Private Member
118 Fergus Robinson – U23 Zappi Race Team
119 Alex Braybrooke – U23 AVC Aix-En-Provence
120 Thomas Mein Tarteletto-Isorex
121 Charlie Passfield – U23 Spirit Tifosi Racing Team
122 Callum Macleod – U23 Canyon dhb P / B Bloor Homes
---
Cycle Division's Shop
---
Send your results as well as club, team & event news here
---
Other Results on VeloUK (including reports containing results)

---
Other News on VeloUK