Ribble Cycles proudly unveiled its largest ever all-new exciting and dynamic line-up at the Cycle Show today including a racey looking E-bike and their lightest road bike so far
News: Ribble Cycles Looking to the Future
Ribble CEO, Andy Smallwood presents Ribble's new e-bike offering, the Ribble Endurance SLe 
Ribble Cycles proudly unveiled its largest ever all-new exciting and dynamic line-up at the Cycle Show today. The range includes frame platforms inspired by a rich, passionate cycling heritage and culture combined with forward thinking research and development – all tried, tested and proven in real world conditions by industry experts.
Ribble's newest offering comprises a total of 23 new models. Covering Road, CX, Adventure, TT/Tri, Urban and CGR categories. The range is designed to maximise performance and enhance the cycling experience for all riders at all levels across cycling genres. Ribble history in the making.
"This is the largest product development project ever undertaken by the experienced and extremely passionate Ribble team and the results are amazing. We have developed a World Class product range that will give our customers a complete riding experience. The new Ribble bike range is the embodiment of British design and bike building combined with cutting edge manufacturing techniques. Ribble has over 120 years of history in designing and building premium bikes and this range is aligned with our vision for the future. This is a pivotal time in the history of the Ribble brand and I am extremely proud to be leading the team that has made this happen". Andy Smallwood, CEO.
Category overview includes the all-new Ribble CGR – the ultimate in rugged versatility. Designed with meticulous attention to detail to handle the toughest roads, terrain and weather conditions. The Ribble Urban offers a high quality, premium and highly versatile range of Urban and Hybrid bikes designed to take on anything from the pot holed roads and traffic of the city commute to a multi terrain weekend adventure.
The Endurance SL disc with its no cable and intergrated handlebar stem
The Ribble Adventure has been built to handle all terrain and luggage carrying requirements. The Adventure platforms are tough, rugged and massively versatile. The Ribble Ultra TT/TRI – designed and perfected with ultimate watt-saving aerodynamic efficiency as the priority, the new Ultra Tri is a bike bred purely to go fast.
The Ribble CX has been design to perform on the Cyclo Cross race circuit. The Endurance rider will benefit from the race bike attributes designed into each and every Ribble Road Endurance frame and will also see gain from the comfort enhancing and fatigue reducing features ensuring that they can go further, higher and quicker whether all-day Epic or Weekend Gran Fondo. With 11 basic frame options utilising Carbon, Aluminium and Reynolds Steel, every kind of set-up is catered for.
The standout Ribble Endurance SLe sets a new benchmark for Ribble and e-road design. Weighing in at a slight 10.8kg, it is the fastest e-road bike range in the world and has all the attributes of a cutting edge high-end road bike and is an exciting new look to the future…
The new range of 2018/19 bikes are all to see now at the Cycle Show on Ribble Cycles stand a hop skip and little jump from the entrance
"When embarking on the new Ribble product range our brief was simple, as experienced and passionate cyclists we had to develop a range of product that we would want to ride. We have explored every detail including materials, aerodynamics, cutting edge manufacturing techniques and ridden countless miles testing and fine tuning. The end result is beyond even our expectations and I believe we have a range of product that is market leading and will give our customers a better cycling experience." Jamie Burrow, Head of Product.
Ribble CEO, Andy Smallwood concludes: "We have developed a World Class product range, which through our direct to consumer route to market and unique Bike Builder tool, offers market leading value and unparalleled levels of customisation. Here at Ribble we are looking forward to an exciting future"
The all new Endurance SL-R series, the bike designed by former pro climbing sensation Jamie Burrows to go up hills quickly!
The stats for the new sporty E-bike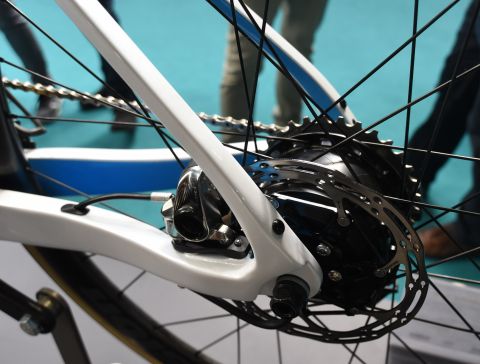 The Endurance SLe has disc brakes to slow it down
And the motor for the E bike is in the rear hub and the battery hidden in the frame….
Ribble History
Trading since 1897 Ribble is a British bike brand proudly steeped with innovative bike building design heritage and has been ridden by British Cycling Champions at various points in their career.
Ribble's primary focus and passion is designing, developing and building high-quality bikes at a competitive price. Bikes for each and every discerning cyclist – from future champions, to daily commuters, hardy hobbyists to dedicated seasoned competitors. Bikes hand-built by our experienced and dedicated mechanics, available online and in store. Bikes that deliver real consumer satisfaction and award-winning results.

---
Cycle Division's Shop
---
Send your results as well as club, team & event news here
---
Other Results on VeloUK (including reports containing results)

---
Other News on VeloUK