Team Polypipe announce rider line up for 2015 led by former Tour of Britain KoM leader Russell Hampton with Dean Downing as director sportif
News – Rus Hampton leads Team Polypipe
NOTE: Send your results as well as club, team & event news here
Team Polypipe have signed six riders for their 2015 squad that continues its focus on developing talented riders, following on from the teams development success with six riders progressing onto full-time cycling contracts.
Dean Downing, Directeur Sportif, commented "The squad is is made up of two experienced riders, two under 23′s with continental experience and two talented Yorkshire riders moving up into elite competition. This is a formula that's proven successful for the team already and creates a learning environment for the under 23′s, but also one where the experienced riders benefit from the enthusiasm of youth."
The team are focus on a targeted calendar of races based around the riders strengths that will include a combination of Elite UK Road and Circuit races, Time Trials and selected UCI 2.2 events. The 2015 squad is detailed below:
Russell Hampton (Twitter: @russell_hampton_)
After winning the Junior RR title in 2006, Russ was the youngest ever winner of a World Cup track event in LA, 2007 as a first year U23. After injury blighted his early 20′s, his class has shown through results across road, circuit and time trial events at the highest level of UK racing brings a level of experience to the team that will its success both in delivery of results and rider development.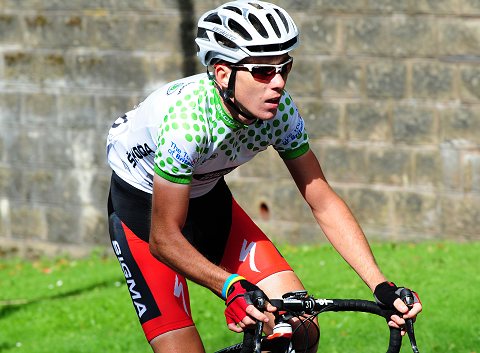 Simon Wilson (Twitter @si_wilson)
Joining the team from Team Wheelbase, Si brings a wealth of experience and a consistent track record of solid results. Earlier this year he outfoxed a strong line up in the Clayton Velo early season opener.
Dec Byrne (Twitter: @dec_byrne7)
The 21 year old joins the team from Baguet-MIBA Poorten-Indulek in Belgium where he had several top-10 results in a high standard of racing. Dec is looking to make a name for himself in the UK racing scene where he has had a taste of success in the past before fracturing his back in 2011.
Tom Mazzone (Twitter: @TomMazzone)
21 year old Tom joins the team after spending 2 years racing in Belgium. As a 1st year U23 he won the IOM Road Race Championship and the Loheac GP in France, and showed his strength this year finishing 2nd in the Puurs GP. Like Dec, Tom is joining Team Polypipe to take advantage of the development system and work towards a professional contract in the sport.
Connor Swift (Twitter: @SwiftConnor)
19 year old Connor Swift rode with Team Bikebox Alan in 2014 before joining Team Polypipe. With Team Sky rider, Ben Swift in the family, Connor has big footsteps to follow but has demonstrated his raw talent with a number of wins under his belt already. 2015 will see his first full season of Elite competition and the next step in his development pathway.
Dominic Smith
A relative newcomer to the sport, Dom joins the team from the amateur cycling club Retford Wheelers. A local rider to the team, he has impressed the management following a solid and consistent display of results throughout the year to retain a 1st Cat road license, finishing his 2014 season by taking 4th place at the Monsal HC behind Graham Briggs, Russ Downing and Adam Blythe despite weighing over 80kg.
Send your results as well as club, team & event news here
---
Other Results on VeloUK (including reports containing results)

---
Other News on VeloUK