Talking to Steve Lampier who was duelling it out with Wiggins and Chavanel on the Tumble in the Tour of Britain
Interview – Steve Lampier
NOTE: Send your results as well as club, team & event news here
Riding for Giordana RT, a team backed by Phil Griffiths at Yellow Ltd and one I hope we see back in 2015, was a rider who was seemingly struggling for a team at the end of 2013, Steve Lampier. He got his place in the Giordana squad for 2014 and during 2013 had many a 'good' ride but when it came to the big races like RideLondon, he stepped up and made the podium as King of the Mountains.
A month before the Tour of Britain and Steve Lampier was on the podium at RideLondon for the KoM award.
Then, in the Tour of Britain on stage 3, up the Tumble near Abergavenny, in the group with the newly crowned World Time Trial champion was Steve Lampier.
Without major stage races to help prepare for Britain's biggest pro race, or the backing of a multi million pound team like Sky, Steve was there in the mix with a host of World Tour household names including Wiggins. So when I say to him that must have been a highlight of his Tour, the reply is an emphatic 'yes'. He then added "the highlight was the next day when Bradley came up and said 'mega ride yesterday'! But, yeah, I had targeted that stage to lay the foundations for my race."
The Tumble was well marked as being a key part of the Tour of Britain and I remember watching various teams including Raleigh etc, all putting riders at the front to help get their 'man' in position.
Talking about that part of the race, Steve says "it was full on and stressful! James Moss and Rob Partridge really looked after me all day with bottles and Rob's knowledge of what was coming next helped a great deal. Then Marcin Bialoblocki put me in a good position, not right at the front, but top 20 into the bottom of the climb."
As team Sky drill it up the Tumble, Lampier, with eventual Tour of Britain Van Baarle behind him, hang in there.
"The Italian (Zardini) and Jack Bauer attacked and then various guys rode on the front for the first quarter as I was just steadily moving up. I was keeping it calm then when we got near to the cattle grid, Nicholas Roche went. The pace went right up which split the group. I went around Wiggins and a few others, just pressing on the pedals and I looked around and I was in no mans land".
"Then, when it opened out with 2km to go, Lopez came back for Brad and they both came past me with 500 metres to go. I sat on for bit but then Brad went to the front as the gradient lessened and had it in the big ring. I couldn't match that! Then Chavanel got to me, attacked and I rode the same pace back to him then he attacked me again! I mean, I've won the Coalville Wheelers Road Race this year and he's won GP Plouay!
"I just kept pushing to the top but didn't have the power on the flatter bit leading to the finish".
The previous year on the summit finish of Haytor, Steve was 12th, twenty or so seconds behind the likes of Quintana so being able to climb with the likes of Wiggins was not new to him.
Steve explains "I've always been able to climb; it's what I did best as a junior and Under 23. Illness and injury meant I wasn't such a good rider mentally for few years but Matt Stephens picked up on it that I could climb well for a UK rider. He gave me the confidence with weight loss etc. During the Tour of Britain last year on Caerphilly and Haytor, I had goosebumps. This year was different with a lot better riders but I was focused plus the lads helped me all day and didn't want to let them down".
At what point did the legs scream enough I asked to which Steve replied "at the finish!"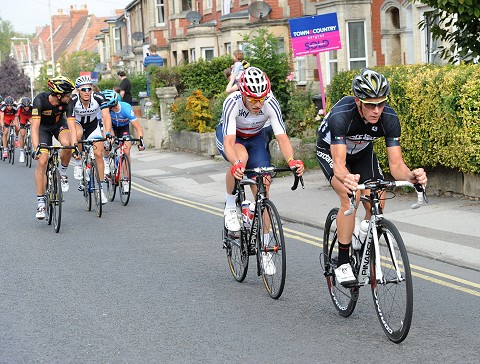 With 30 riders up the road, Stage 6 gave Steve a bit of a fright but all was well by the end
In a race like the Tour of Britain, saving the 'pennies' as some will call it, is important so I asked Steve to tell us about the first two days leading to that all important stage 3 to the Tumble. "Stage one and two was about staying safe and not losing time. I was nervous all stage one and on stage two, Rob was so keen to get away as the race went through his birth town."
"So we had no pressure as a team mate up the road is good all round. I was nervous of the last climb and descent into the finish but when I realised I was in a safe place on the climb behind guys who weren't going to sit up, I chilled. Everything was going to plan".
Steve was in 13th overall after stage 3, only 13 seconds off the top 10 and as it happens 10 seconds behind the eventual Tour of Britain winner Van Baarle. There was plenty more of climbing to come as Steve explains. "The stages into Bristol and Exeter both had difficult finishes with a steep climb and flat or descent to the finish so it was about getting in a good place and not losing time or even try to steal some time".
"I was in good place at the top of the climb in Bristol but was swamped for the finish and the TV motorbike going into Scott Thwaites (he fell in the sprint) stalled things".
"Into Exeter, it was hard to get a good position and that was a hard two kilometre sprint. I wanted to have a go but those World Tour guys can move"!
Following Wheels
The racing was fast and it's something you just don't get a feel for on TV. I remember when a break was taking time out of the peloton and looking down at the speedo of the motorbike and seeing the needle closer to 40 mph than 30 showing that the peloton were not hanging around.
"Two days in a row a false tempo was set" says Steve "so a working or motivated group could open up a gap. It was fast and the last 100kms on the Friday and Saturday were warp speed."
Steve seems a bit surprised to see a camera pointed at him! Calm down, its only me Steve!
Pre-race, there was some discussion about the toughness of the route. Some were saying it was tougher, others less so than the 2013 Edition which at that time, was the hardest parcours yet. What does Steve think who had to pedal both routes!
"It was harder in 2014 due to the routes used. There were no real GC days like 2013 when we had a 16km Time Trial, Caerphilly and Haytor. This year, four stages with difficult climbs at or near the end plus a summit finish, but a lot of KoM's to be covered before the finale. That made for interesting racing, for viewers and riders. Best yet I think."
Asked to sum up how the Tour went for him mechanically, Steve says "I had a puncture at 1km to go into Llandudno and then with 4km to go on stage 7 into Brighton, my chain wouldn't go onto the big ring, so I lost touch with that select group. But other than that we had a lucky tour."
One day that was lucky in a way was stage 6 when a group of 30 or so escaped and Steve was in the second peloton with Marcel Kittel and others. It wasn't until three riders escaped the front peloton they sat up after ninety minutes of uncontrolled racing and the second peloton came back to the first one.
"That came as a shock" says Steve! "I was panicking but there were lots of good guys there. The Giant Shimano lads were like 'stay calm, it's coming back' and at 50km done, we got back. But yeah, I had a fright! There was a bit of panic at first with Leopold Konig of Netapp-Endura (7th in the 2014 Tour de France) and that there but after a while it settled down and guys rode. We could see the cars so then people chilled."
Whilst Steve can obviously climb, the Tour of Britain is eight days long and this year the stages were longer than previous years. For riders like Steve on a diet of crits and road races less than hundred miles long, backing up day after day depends on a lot on their ability to recover.
Stage 6, after the peloton's came back together, turned out alright for Steve who was 16th. He went into the stage in 14th overall but two of the riders in the stage's break, Brandle and Dowsett (who took yellow that day) jumped over him in the overall. Steve says that day scared him though!
"That finale was really hard especially the last 50-60kms. I had though trained hard before the race but knew a lack of stage racing would go against me. I'm 30 however and so I've developed a fairly big base by now!"
That stage six into Hemel Hempstead saw the riders tackling the climbs of the Chilterns and asked what that was like, Steve replies "it was just fast and with sprinter's teams working, the stage was turned on its head. But then that's what makes cycling the sport it is; great for viewers".
"Alex Dowsett played a great game on that day. Riders that really impressed me were Tom Stewart, on that day, mega result for a UK based rider, Mark McNally attacking and winning a KoM and Tao Geoghegan-Hart. A 19 year old attacking World Tour guys after 225kms on stage 7! He is the real deal, he impressed me the most".
Steve comes in alone on the little chainring after a fast run in to Brighton.
Following Stage 6 came the monster 140 mile stage 7 to Brighton where a break again got a lead the peloton were never able to close and the yellow jersey changed hands again. Asked to describe the crunch points, Steve says "I made the selection on the climb of Ditchling Beacon. There were 16 of us".
"The climb was full on and then over the top, we all rode and with no yellow jersey, everyone had something to gain. Coming into Brighton, Tao attacked and then was caught at the bottom of the last climb. A few guys attacked, Roche etc and I countered that but was caught."
"Then I was sat waiting. We had got rid of some guys but at the top, we had a mega cross tail wind and I couldn't get the chain on the big ring and couldn't pedal fast enough. I nearly got back on the steep part of the descent but in the end lost 15 seconds and slipped to 18th. If that hadn't happened, I would have been 13th on GC, but 'coulda woulda shoulda' doesn't win races!"
Steve, according to his manager in the race Bill Nickson, was looking to the time trial to do his best but as Steve admits, he's not so good at the time trial but got the job done with a top 20 ride.
Asked to rate his Tour of Britain compared to other rides during his career, he says "I was disappointed at the time as top 15 was the aim but 18th in a HC race was good and 13th on the Tumble when all ahead of me and fair few behind have ridden Grand tours was mega!"
"Being first "domestic" is neither here nor there as all the UK guys had their own objectives in the race; being in breaks or whatever. I wanted to better my 17th from last year in the higher level race though".
Asked what now, he says "I've still got a few National B's left. I just like to race and then I get a nice break, maybe 3-4 weeks before bit of cyclo-cross when I start again mainly because I enjoy a good local league and it's something I've done for a few years now".
The ride in the Tour of Britain is sure to stand him in good stead when it comes to getting a team for 2015 but I can't help but feel for riders I watched from the motorbike racing full gas with the European Pros and whilst the latter go to the Worlds or the final classics of the year, Steve and others are racing national B's!
It just doesn't seem fair that those that can race with the best, are not doing so because for no other reason that no team has 'found' them. But that is cycling and that is also why the Tour of Britain is such a leveller… Domestic teams getting the chance to show themselves and 'Lamps' certainly did that!
Thanks Steve and good luck for 2015.
Send your results as well as club, team & event news here
---
Other Results on VeloUK (including reports containing results)

---
Other News on VeloUK