Post championship chat with the New British RR Champion Peter Kennaugh about the race and not being selected for the Tour de France
Interview – Peter Kennaugh- RR Champion
NOTE: Send your results as well as club, team & event news here
For many years now I have watched the National RR Championship from a motorbike and seen a rider ripping the road up but just failing to win the title; Peter Kennaugh. The Isle of Man rider doesn't get many chances at Sky to do his thing it but on Sunday, he was, along with Luke Rowe, two of the strongest riders in the race.
He was also my favourite for the race as I guessed there'd be the hunger there for that jersey. Whilst Luke Rowe slipped away with two other riders (Jon Mould, Tobyn Horton) to lead the race on the big loop to Chepstow, two or three minutes behind, Peter Kennaugh eliminated many on the climb at Celtic Manor where he put the hammer down past the club house at the bottom and kept the pressure on all the way up.
As he did so, some more riders came across to him and a lead group formed at the front but Kennaugh, and his teammates, continued to keep the pressure on until there were only two riders in the lead; both with a connection to the Isle of Man; Kennaugh (from there) and Ben Swift (got a house there or did).
Whilst Swifty is known for his fast finish as befits his name(3rd in Milan San Remo), Kennaugh had the experience of having done the finishing sprint on the same street where he had lost to Kristian House in 2009. Low and behold, Kennaugh came out of the man on man duel with Swift as champion.
"Without coming third here in 2009, I might not have won it today" he explained to the press assembled around him in a tent. "I had a lot of experience and was willing to throw second place away to win the race. After I didn't drop him (Swift) on the climbs, I was going to sit on him the whole way in and gamble everything".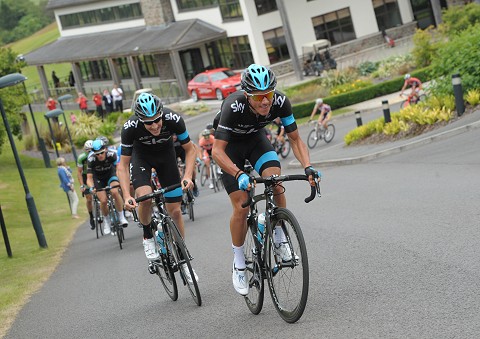 "I still didn't think I was going to win it; 30 per cent chance of the win say. It's almost a non-sprinters sprint though because after you crest the top of the finishing straight, it's downhill to the line and it's like the track where you use a faster cadence in the sprint and I'm a lot better against the guys there compared to what I am on the road."
"So I thought I had a chance. As I opened up the sprint, I couldn't believe I had started to come round him. I left it late, maybe 150 (metres) and then once I started to come round, in the back of mind I was saying 'it's not over until we cross the line and even then, I didn't think I was going to win when I was next to him. I just thought, grab the bars and give it everything".
"I was made up, over the moon with the win".
Going back to a crucial part of the race on the big loop, Luke Rowe, his teammate was up the road and as the race entered Celtic Manor for the big climb there, it was Kennaugh unsurprisingly who put the hammer down. "I knew Luke would be good to work with so I thought I'll give it everything and force a selection of the strong guys and get a good group together."
"It split up but it wasn't quite the decisive move so when we got into the short sharper climbs, we started hitting them again. It was a tough course and really good in that it enabled a lot of guys to race it. They weren't really hard climbs; rolling and undulating, and that kept the race together and gave everyone an opportunity".
"It was an interesting race and once that break got away that we were in, I don't think it was fully over until G (Geraint Thomas) sat up with six or five to go. The crowds around Abergavenny were amazing as well."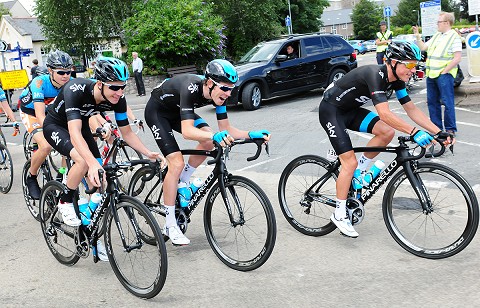 Asked whether he was concerned at all at the threat from Simon and Adam Yates, Peter replied "I wasn't sure how they were going to ride and then it became clear that there weren't riding with each other. Sure they are teammates and brothers but I think both wanted to become national champion. They are super strong guys and amazing bike riders. You don't see them and then they are in the move".
"Hats off to them and for first year professionals, the way they ride is really mature."
Peter also explained how he'd had a chat with Luke Rowe who didn't look at all fatigued in the break despite the first break he'd made. "I told him I was going to start attacking with around four to go because I needed to make it hard for guys like Swifty and that, and I needed more of a selection and he said 'okay, I'll have a dig first and make Mark Christian or one of the Yates chase'."
Kennaugh, true to his word, started to attack and soon it was just him and Swift with Simon Yates chasing. Peter explained how he and Swift worked together for perhaps half a lap to establish the gap and once they were sure they would stay away, it was every man for himself."
His team were certainly nervous about them and the Sky car came alongside with Rod Ellingworth in it and Peter said they were told "whatever you do, don't get caught but I was like not bothered if we got caught because it was win or nothing for me".
Non Selection for the Tour de France
"I'm really disappointed. There are a lot of strong guys on the team and you feel like you constantly have to prove yourself. I had really good form at the Tour of Suisse, 11th in the prologue, was climbing well and been to altitude before and the weight was good. Unfortunately, I got a chest infection like half the peloton so wasn't able to show myself on the climbs on the last two days".
"This year, I have won Coppa Bartali, rode well at Ruta del Sol and been good at my domestique duties when they have needed me."
"I had a rough patch around the Ardennes classics which was down to fatigue and not resting enough after races and their reason is I'm not consistent enough but I disagree. So I am really disappointed."
"Riding in the Tour de France with the British jersey is the ultimate. I think it's a shame that a British rider on a British team in the Tour de France starting in Britain can't be there in the first place never mind being the British champion. I would love to have been there with Chris Froome again and I don't know how else I can prove myself".
Above: Peter at the Tour de France working for Chris Froome but Sky didn't think he was consistent enough to select for this year.
"I'm going focus on the track now for the Commonwealth Games now I am not in the Tour de France."
One of the big prizes in winning the Road Race Championships as others who have won it have said to me, is not just the winning of the race but the opportunity to wear the jersey in the pro peloton for 12 months. On that Peter says "I am a bit bored of wearing black these days so it's going to be nice to have a new jersey!"
Finally, asked about Rio and the Olympics, he explained "we chat about it, riders and staff, but it's a bit too far ahead. It really depends on how the road goes for the rest of the year and next year as well".
Send your results as well as club, team & event news here
---
Other Results on VeloUK (including reports containing results)

---
Other News on VeloUK