Selected for the Tour de France, Simon Yates is the talk of the town right now & VeloUK spoke to him and Adam on Sunday
Interview – Simon & Adam Yates
RELATED: Team Press Release
When you have been in this sport for a decade or more, you get to see many young riders in 'normal' British races doing their stuff, winning some, and generally being another of the many talented riders in the peloton.
Simon Yates
Then a few years on, they get a break and suddenly they are winning World Tour races or getting selected for the Tour de France. That's what has happened to Adam and Simon Yates. I remember them in Junior races, Simon winning one in Somerset sticks in my memory, and when they turned senior, Simon as part of the GB academy and Adam off in France.
The learnt their trade, they worked hard and they chose the right team to go pro for – Orica GreenEdge. As an Aussie, I'm especially proud the team they chose gave them the opportunities that one like Team Sky doesn't to young riders.
After Adam's win in the Tour of Turkey and 6th in the Dauphine, now Simon is selected for the Tour de France. His team explained how Simon Yates has excelled in his first year as a professional and a broken collarbone at the Tour of Turkey and then on his return to racing at Tour de Slovenie, Yates finished seventh overall and collected the best young rider jersey.
"Simon has certainly achieved a lot more than we would have imagined up to this point," said Matt White. "It wasn't the plan to bring him into the roster for the Tour de Franc, but for what we want to achieve as a team, he's a great fit".
"It is no secret that we are targeting the intermediate mountain stages, and Simon has shown in his results throughout the year that he is more than capable of great results. "
Simon Yates leads his brother Adam during the British Road Race Championships on Sunday
"Simon's inclusion begs the question of Adam's exclusion," White noted. "Simon's broken collarbone in the Tour of Turkey has been a blessing in disguise. One of the reasons Adam is not going is because he has been racing and in very good condition since January. It wouldn't be a wise decision for us to send Adam. With Simon's forced break due to injury, he's fresh and ready to race."
Ahead of Simon is the toughest first week of the Tour de France in the modern era says White. "The second stage in Sheffield is really like a mini Liège-Bastogne-Liège. Then to top that off, the second stage back in France is like a mini Paris-Roubaix. It's certainly got it all".
The news of Simon's inclusion came as he was out on a ride and his mum Sue explained later that Simon was 'quietly chuffed' getting a ride in his first year as a pro and how Simon, quite shy, wasn't sure whether he was ready for all the attention.
Talking to ITV, a few days later, he says "I thought they were going to be calling about the Tour of Poland, which is a month away," Yates told them."It's a shock. From the start of the year I was not even a reserve for the Tour de France so to come to the biggest race we do all year, and specially with it coming to England, it's a big opportunity."
"I'm just here to help Simon Gerrans and Michael Matthews," he said. "We're targeting the medium mountain days where a sprinter who can climb will get to the finish and hopefully I can play a big part. The guys here are the best in the business so I'll leave it to them. They're experienced."
"Simon [Gerrans] won a stage in the Tour last year, and 'Bling' (Matthews) just came from the Giro (d'Italia). I've come here prepared legs-wise, but not mentally," he admitted. "I'm just looking forward to getting started."
One of the chosen Four
As one of only four Brits starting the Tour de France, Simon is sure to get plenty of that whilst the race is in Britain and beyond in France. Prior to the team announcement, VeloUK had spoken to Simon and Adam on Sunday, unaware his team were going to include him in the team. Asked about his Bronze medal in the British Road Race behind two young team Sky riders not selected for the Tour, Simon said "I'm really happy. More happy with the feelings in the legs than anything".
"To come back from the injury (collarbone), it's the first time I have felt back on it. I can't complain about the result as Sky always had us outnumbered and Pete was definitely the strongest in the race. He has been second so many times I think he deserves it!"
Since Simon broke his collarbone in the Tour of Turkey, he says it's been about training in Girona where he now bases himself. "I've been training on my own a lot out there because I like to train quite late, or with Erick Rowsell, and I have been able to get a lot of good work done. Quite a lot of specific work that you wouldn't do during racing for example."
In the Road Race Championships, it was Adam and Simon against four from Team Sky. Talking us through that, Simon explained "Rowey put the first dig in and it was a bit early unfortunately and made us chase straight away. Adam said he didn't have good legs after a break since Dauphine so he committed to help me and kept Rowey at distance for me to jump across."
"Then up this first climb, I gave it full wack, 100%, as I needed to get away to limit Sky's numbers there, so I went flat stick and I ended up just getting rid of Mark Christian and Adam. So that wasn't ideal but a few laps later the racing was taking its toll and it was me, Pete and Swifty. They weren't really working me over as it was very man for himself by then."
Simon Yates – next stop Tour
Standing next to Simon when we talked on Sunday, keen to destroy a packet of sweets nearby in his parents car, was Adam Yates.
Even before Simon having been selected, Adam admitted he was quite okay with not getting a spot in the Tour de France. "I'm glad I'm not doing it really. It's a bit too much stress for me! I'm always getting into trouble for sitting at the back and going off into my own world so it will be good to watch it on TV."
Even more so now his twin brother will be riding. Adam explained how in the Tour, the first week is generally quite flat (no mountains) and is a bit chaotic where as in the Dauphine, the second stage was a mountain top finish. "The Dauphine was still stressful but a less than the Tour".
That reminded me of a comment from a stage winner who says that for the Tour, the focus required is 100 per cent all the time which makes the race so tough on top of the physical demands.
Talking to Adam about the Road Race Championships, he says "We were always outnumbered and whilst it's an individual race, teamwork was going on and everyone knows that will happen going into the race. All the teams even the British based ones."
The first test for the riders was Celtic Manor where Peter Kennaugh put the hammer down to force a split. "I was quite a way back on there" says Adam. I had to make my way from about 50th wheel and over the top, there were two groups. There was one with Simon, Pete and Blythe and others and I was in the second bigger group. We call came together on the dual carriageway and from there it was full on all day."
"We both got in the move and everyone was working well but towards the end I was feeling a bit rubbish. Up until the Dauphine, I'd been racing quite full on so I've had four or five days completely off the bike and come back and the form is not too bad. I've lost a little bit but am still at a high level".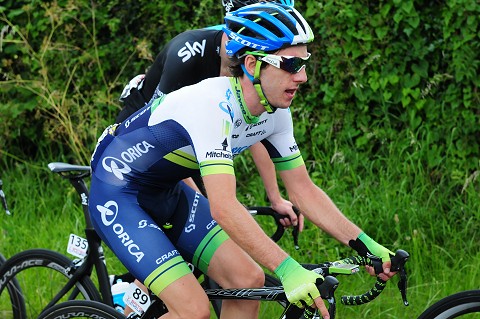 Adam Yates, pleased not too be doing the Tour and having a break.
After a season racing in Europe and the world, Adam has seen a lot of racing but not much British style racing. Asked about the difference, Adam says "normally I have a whole team with me and sit in and wait for the last ten or fifteen K whereas today, you have to do it yourself and its full on from the start".
"You're fully committed and you don't get much of a break where as in Europe, I have a team around keeping me out of the wind and if it does go hard, there is someone to look after me".
Whilst the British Champs may not have seen Adam get a great result, he has had plenty of others including a win in Turkey and two top threes in the Dauphine. Was that surprise I asked Adam?
"I have always raced at quite a high level (in France for two years) but I've never really had races to allow me to show what I can do. I have probably only done two or three races before this year that have suited me and then I've had injuries so it was only 'Avenier' where I showed myself (2nd) . So every race we do, it's not flat or in cross winds which I don't like. The team don't want to put me in such races where I'm of no use so it makes sense they put me in these hard hilly races and I am going well there".
After such a memorable season start, does he have a favourite result? "Getting the hands in the air is always good"Adam says. "Dauphine is a higher level than Turkey but it's great getting a victory too!"
Adam though was keen to play down his ability to race with the likes Chris Froome. "I am quite confident in my ability and if you are going well, and you have the confidence, you can hang on and that's what I was doing. I wasn't up there with Froome on the big mountain stages. I was losing a little time but in the future, if I keep improving and getting the results, who knows".
And life in Orica-GreeEdge, what is that like I asked? "It's great fun. The riders are nice and staff easy to get on with. Every moment is dead easy and there is never any pressure with the team to perform. Even at the Dauphine, where I was top 10, it was like, if you have a bad day and you lose it, no worries. It is dead easy to focus on getting results which is the best thing".
Asked what it was like being a neo pro and having experienced and star riders working for him he says smiling "it's great! Great fun. I am always getting in trouble for not following a wheel and switching off but I have a few years to learn".
And the attention he is getting from fans and the press "I don't like the interviews because I am always scared of saying something and getting a rollicking for it. It hasn't been too bad though. When you're doing well everyone wants to speak to you and I've been doing okay".
So finally, what now for Adam whilst Simon is in the Tour de France? "Not much because I have been racing full on from January in Argentina so I have had a break and now start to get in the miles. Racing starts racing properly around Classica San Sebastian".
And the Worlds I asked? "Possibly. It looks like a good course for me so hopefully I'll get selected".
Thanks to Simon and Adam for the chat and good luck to Simon in his first Tour de France. He won a stage in the 'baby' Tour (Avenier) and he's upped his game in the pro ranks, won a stage of the Tour of Britain and done well this year that who knows what he'll do in the Le Tour but expect to be surprised!
Send your results as well as club, team & event news here
---
Other Results on VeloUK (including reports containing results)

---
Other News on VeloUK